Home > Ideas > Why Adlove ads are great value for money (Jan '17)
Why Adlove ads are great value for money
Adlove ads offer an advertising opportunity that sits somewhere between display ads and sponsored content. Here's a diagram showing how they're structured: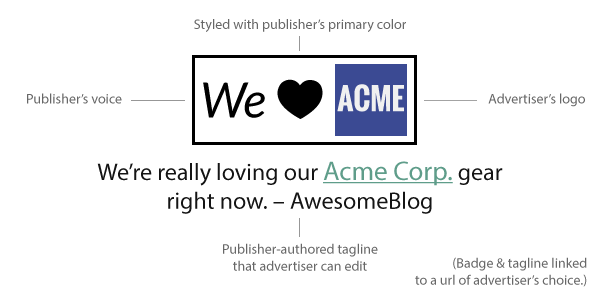 (The above would appear on a blog called 'AwesomeBlog'. See here for a diagram that provides further clarification.)
This design is unique and special. It makes Adlove ads significantly more effective than both ordinary display ads and sponsored content. In this post I'll explain why.
1. Aligns with the User Experience
One of the biggest issues with online advertising is that users go numb to ads. The main reason for this is that conventional ads go against the intent of the end-user. When a user visits a blog she wants to hear from the blogger. Conventional ads express the voice and ideas of the advertiser.
Adlove overcomes this by sharing creative control between advertisers and publishers. This enables advertisers to have just enough control to fulfill their business needs, but not so much that it destroys the user experience.
The math:
What this means is that Adlove ads don't get ignored by end-users. This translates into saved money and higher ROI:
2. Influencer Endorsements
Since publishers are key influencers for their respective audiences, Adlove ads carry a mimetic power that conventional ads don't have. We all know people that we admire, trust and respect. When these trusted people say something, we tend to believe them. Often this gets us to act. Adlove provides a way of channeling this dynamic to help you achieve your business objectives.
3. Low Setup Costs
Everything I've said so far applies as much to sponsored content as it does to Adlove ads. The problem with sponsored content is that it starts at higher CPMs ($7+ Vs. $0.50+), involves a costly back and forth with the publisher to create and expires as soon as it has moved down the publisher's feed. All this makes setup costs non-trivial.
On Adlove it's easy and quick to get set up: you simply star publishers on the system that you might want to be endorsed by. When endorsements come through you toggle them on and off and adjust bids and budgets like a normal ad network. The resulting ad creative survives the daily news cycle which means the work you put in compounds to create durable and reliable success.
Conclusion
So that's it. Adlove ads get ignored less. They channel endorsements from trusted influencers. And they're easy and cheap to set up.
(Feel free to drop me a line on aftab [at] adlove [dot] com if you have any questions.)
---
by Aftab Singh (@affalytics) | Ideas home